Check that your MicroSim is installed correctly.
When looking down at your device, you should see the charging port when installed correctly. The three prongs are meant to slide underneath your golf grip to prevent the cradle from rotating during impact.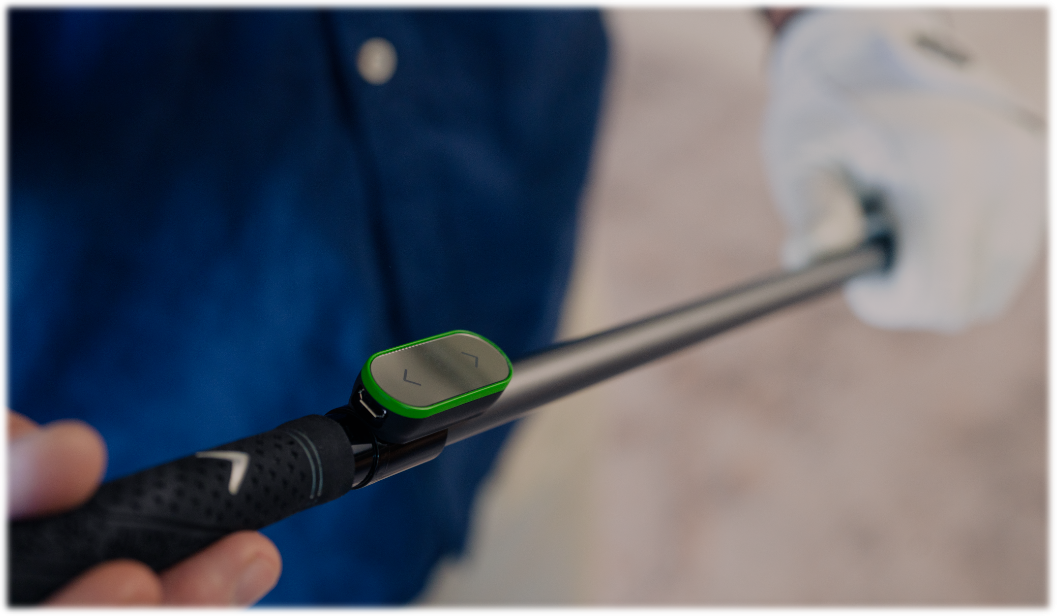 LEFTIES
We currently have a bug within E6 Connect that TruGolf is helping to find and resolve. Many customers are able to get it working by taking a swing right handed, and switching the user profile from left to right. We have not found a consistent solution, but once it starts working it keeps working. With that said we have opened back up our older Tittle Tracker integration that will work with left handed users. To update the Tracker go to E6 Connect Settings, then Simulator, and select Tittle on the far right, then Accept.
There are some aesthetic updates and a few improvements using the Swing Logic-SLX as the Tracker, but the general features and graphics are the same.
Disconnected symptom between SLX Product Home Golf Simulator and PC
Check the battery. Double-tap the SLX product ( Nano or MicroSIM ) device screen and check if it is powered on and at what level the battery is. Check if there are other SLX product ( Nano or MicroSIM ) devices around you. (If several devices are turned on at the same time, it may interfere with the connection.) If you have firewall software installed on your PC, be sure to grant permission to use E6Golf software.
SWING NOT REGISTERING ON SCREEN
Swing must display on the screen before swinging or Swing after hearing READY Sound from PC or vibrating of device. "Waggle", or additional movement after you have addressed the ball (real or imaginary) will cause your device to enter a "Reset" mode to prevent the smaller movements from being registered as your swing. Whether using E6 Connect or SLX Connect the device will enter a "READY" state when it recognizes the sensor is at the address connection. The audible feature can be turned on within SLX Connect by going to Settings, and scrolling to the bottom to turn on the "Text to Speech" feature.
DEVICE DOES NOT RECOGNIZE YOUR SWING
If the device does not recognize your swing (ie a short putt), it can be solved by moving your backswing faster when swinging. Especially for short putts, if it doesn't recognize your swing, adjust the swing sensitivity in the settings. (The settings menu is included in E6 Connect> Tracking System and SLX MicroSim/Tittle> settings.
Please refer to the User Manual for details.